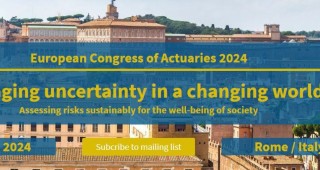 5th EUROPEAN CONGRESS OF ACTUARIES 2024 on 6 and 7 June 2024
CALL FOR PAPERS
Under the theme of the congress: Managing uncertainty in a changing world - Assessing risks sustainably for the well-being of society, the Program Committee invites all interested actuaries, experts and academics to discuss a broad selection of current professional challenges and opportunities arising from our changing world.
The subject areas include - but are not limited to - the following topics:
Artificial Intelligence and Data Science
Sustainability
Accounting
Products and product development
Emerging risks
Supervision
Actuarial profession
A list with the subtopics and the corresponding research questions can be found here.
The Call for Speakers is open until 31 October 2023. Don't forget to submit your abstract by using the submission form on www.eca2024.org -> Call for Speakers!
The presentations for the congress program will be selected by 15 November 2023.