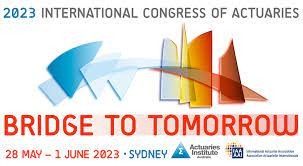 2023 International Congress of Actuaries
The International Congress of Actuaries has always been famous for its combination of global thought leadership, deep personal connections, and brilliant locations.
And Sydney 2023 will be no exception.
ICA2023 will feature some of the world's best actuarial minds sharing practical and stimulating insights.
It will be a true hybrid experience, so even if you can't get to the bright lights of Sydney, you can still enjoy the full learning experience and connect with the global profession via an innovative virtual learning and networking platform.
Like every ICA before it, Sydney's will be packed with bold sessions across all practice areas that send you back to your office brimming with new ideas.
The program will feature 600 speakers from 50 countries, with 220+ concurrent sessions.
You can also enjoy dinners, cruises and networking sessions with hundreds of actuaries – in iconic venues that capture the bright lights and soaring architecture of Sydney's stunning harbour and city landscape.
The wait is finally over – early bird registration is now open for the 2023 International Congress of Actuaries!
So, the question is: why wait? Register now and add ICA2023 to your calendar.